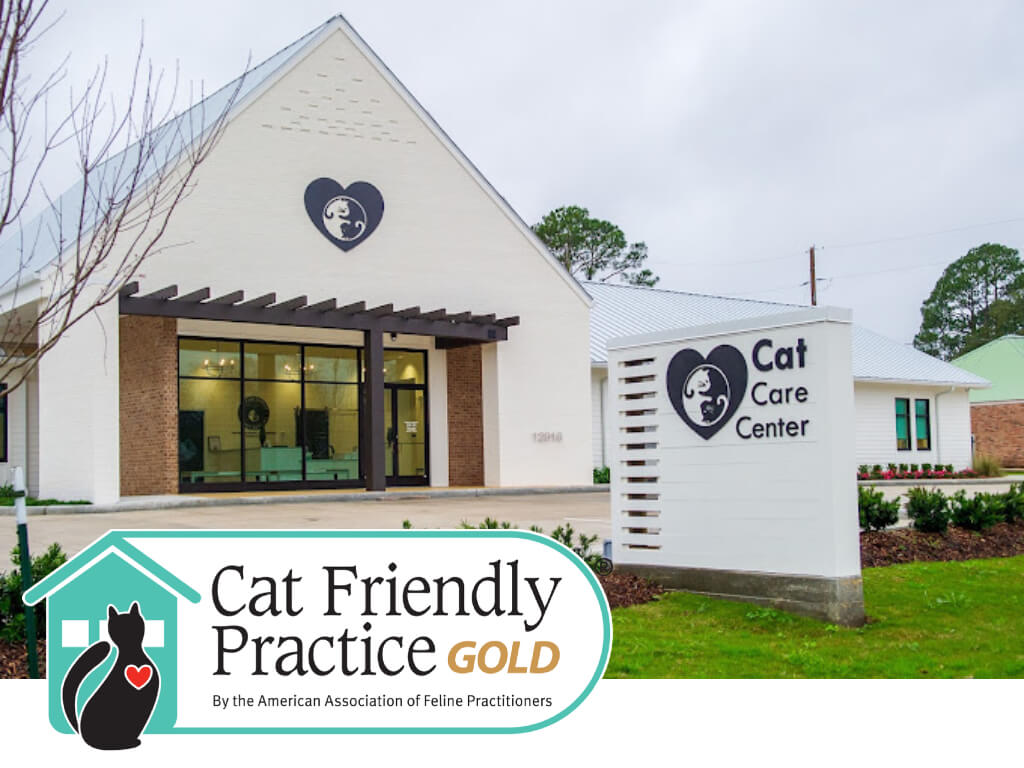 You've seen our signs: we are a certified GOLD level Cat Friendly Practice! But what does that mean, exactly? 
The Cat Friendly Practice program was created by the American Association of Feline Practitioners (AAFP) to help veterinary teams adapt the practice environment and the way they interact with their feline patients to reduce cats' stress and, in turn, benefit their mental wellbeing and physical health.
Veterinary hospitals can become accredited as Cat Friendly Practices by meeting various criteria relating to the hospital environment and the way the veterinary team interacts with their feline patients. 
Veterinary practices provide evidence of any changes they have made in order to meet these criteria, which are then assessed by AAFP giving the hospital one of three rankings: bronze, silver, or gold.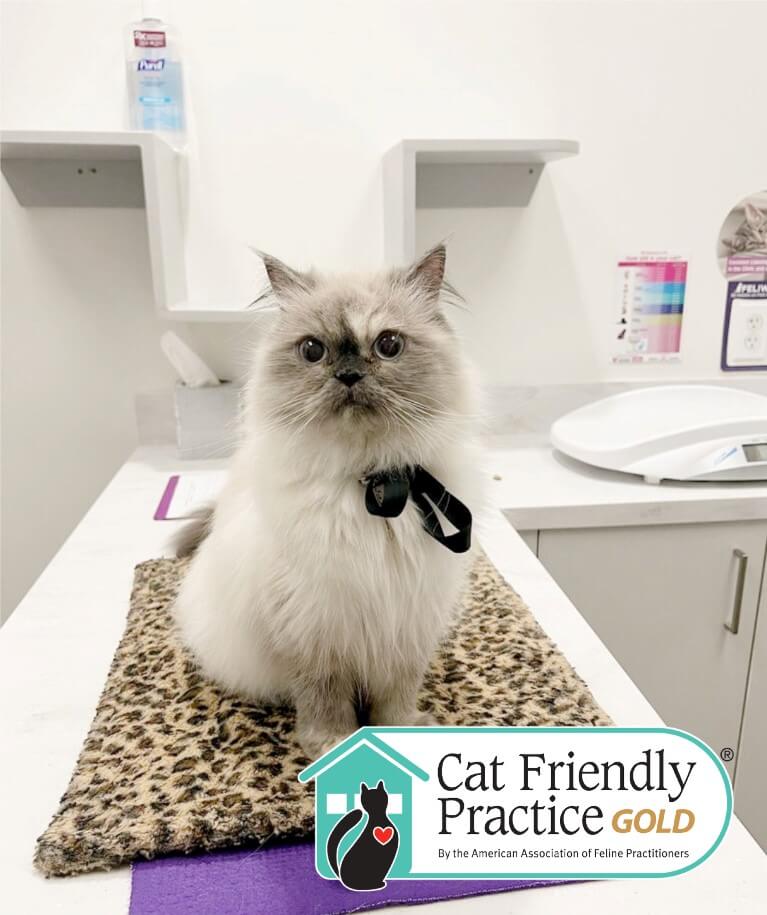 Cat Friendly Practice GOLD Level, criteria 1: the clinic environment
Every area of our veterinary hospital was designed from the feline perspective. Cats have excellent senses of smell, sight, sound, touch and taste. This makes them clever little hunters, but can mean the veterinary environment is overwhelming and scary.
Here are just a few highlights of our hospital design achieved gold status at Cat Care Center:
Our hospital serves only cats, so there are no dogs, loud barking, smells, or other animals to be afraid of. 
Our waiting room is quiet and there are specific areas to place cat carriers (cats feel safer off the floor).
Our hospital has calming feline pheromone diffusers in every room (Feliway)!
Our exam rooms include soft bedding (no cold steel!), shelves to perch on, adjustable lighting, treats, toys, catnip... and more!
We provide a safe, warm, quiet, and calm hospital area for sick and recovering cats.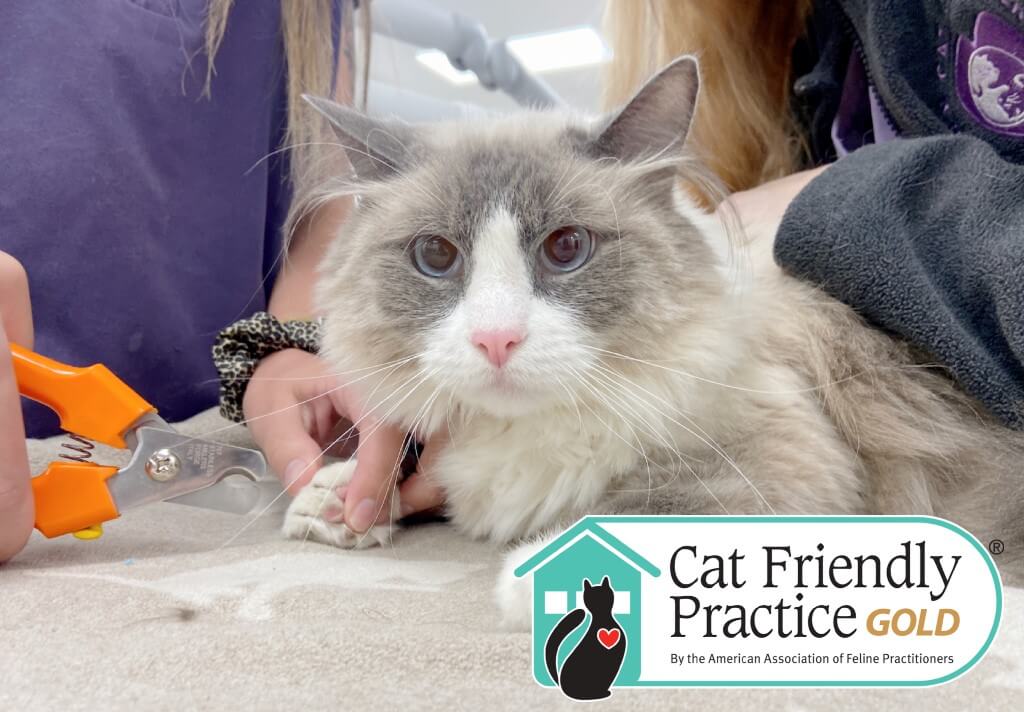 Cat Friendly Practice GOLD Level, criteria 2: equipment
Small, simple things can make a big difference to the cats! Examples are the use of quiet clippers, smaller nail trimmers, and smaller needle sizes.
We have big equipment, too! We also have a full surgical suite, a plethora of high-level dental equipment, and laboratory equipment. We can confidently say that no detail was spared in the design of our cat-friendly hospital!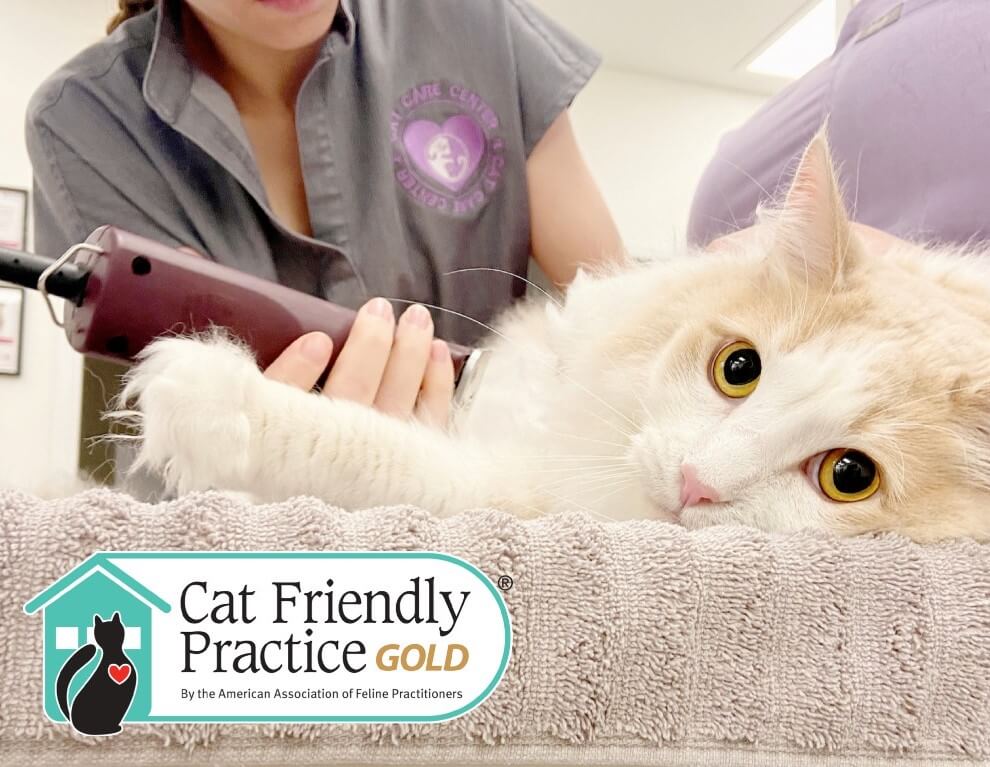 Cat Friendly Practice GOLD Level, criteria 3: handling and examining cats

This is a big one!
Staff in Cat Friendly Practices should always handle cats gently and kindly, watching their behavior and considering what emotions the cat may be feeling.
Cats should NEVER be forcibly restrained to keep them still for procedures, or grabbed or lifted by their scruff (skin on the back of the neck), as this will cause fear and pain, and lead to the cat developing negative associations with the hospital.
Veterinary professionals at Cat Friendly Practices have learned to change the way they touch and hold their patients to ensure the cat is comfortable.
With empathy and patience, we treat all cats gently and with respect!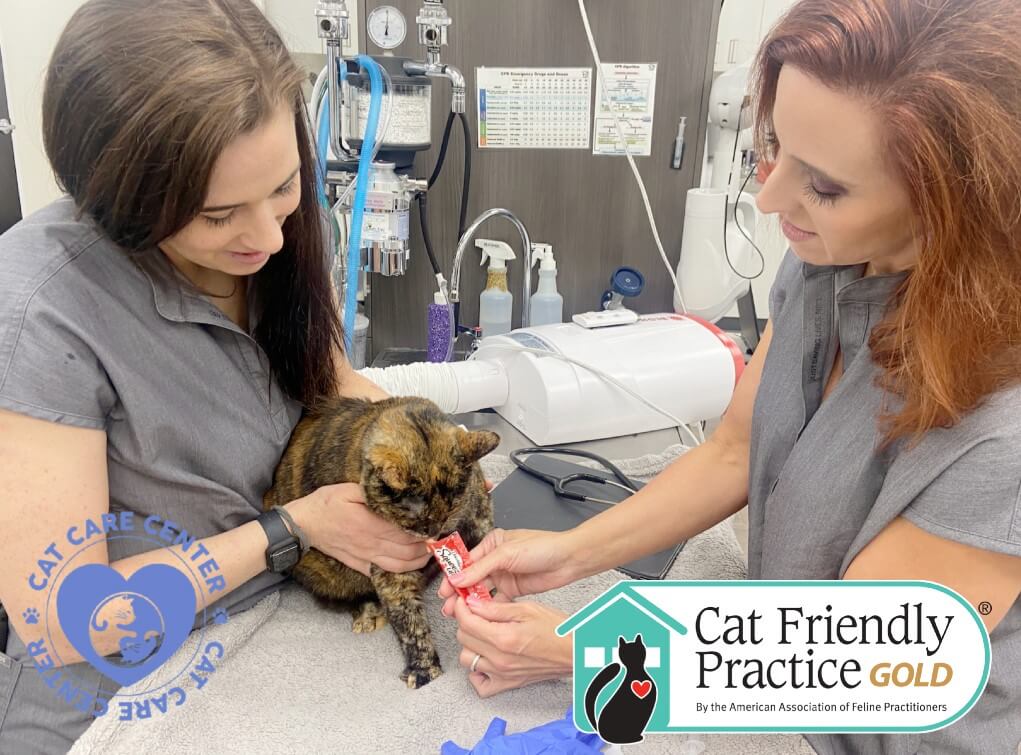 Cat Friendly Practice GOLD Level, criteria 4: veterinary team training
Veterinary professionals in Cat Friendly Practices are well trained and stay up to date with the latest information on the veterinary care of cats through their membership of AAFP and/or ISFM (International Society of Feline Medicine). They are passionate about learning new and better ways to care for cats in their hospital, and attend lectures and conferences, sharing that knowledge with the rest of the veterinary team.
Did you know that every single member of our staff must pass a cat-friendly certification course? We also have the only ISFM certified feline nurse in Louisiana (Haley)! Investing in education is vital to success no matter the industry. We are so proud of our team for their certifications and accomplishments!