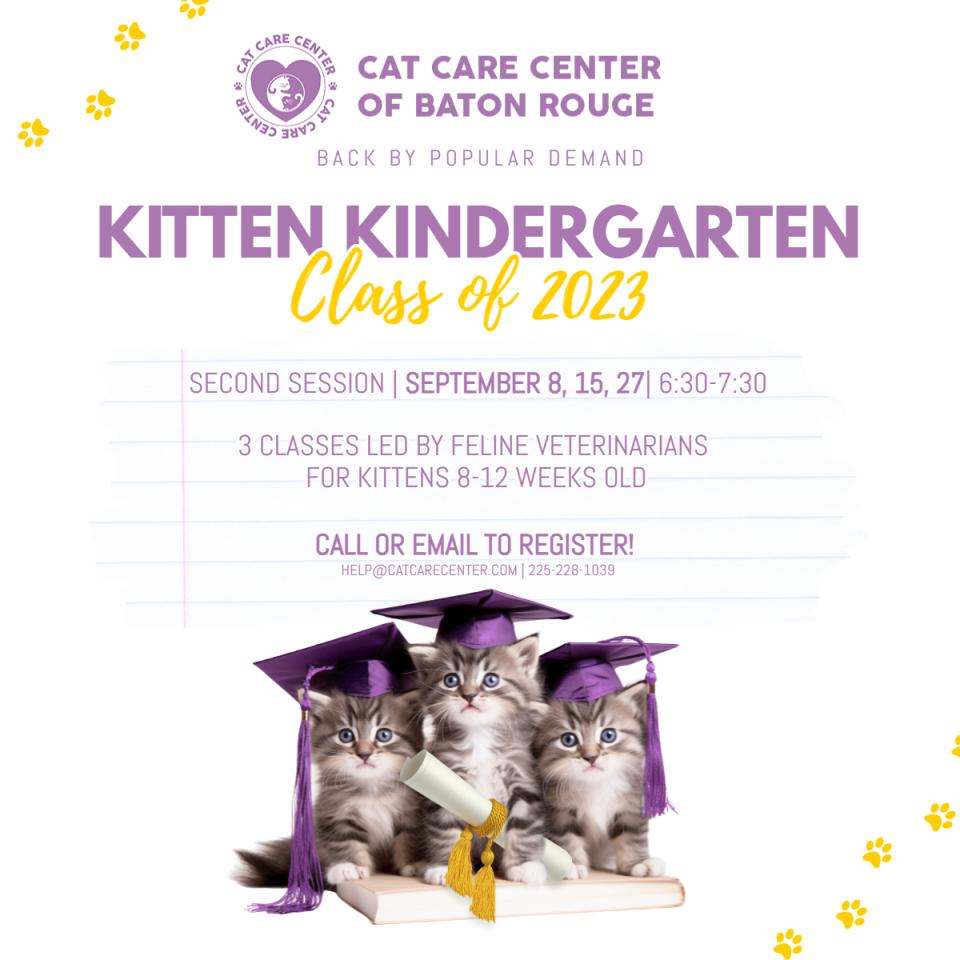 What is Kitten Kindergarten?
Kitten Kindergarten is an early socialization and training program designed to help owners and kittens start off on the right "paw" in life. These classes socialize kittens following the early socialization period with their mom and littermates. This is the next step to ensure proper growth and development socially and behaviorally so they can adjust to going out in the world. The ultimate goal is to boost your kitten's confidence so they may become the great cat they are destined to be while making it easier for their owners to understand, better communicate, and develop reasonable "cat" expectations!
What Will My Kitten and I Experience in the Classes?
Your kitten will be exposed to a small class with different people and other kittens. The introductions are passive in nature; none of the kittens are forced to interact socially. Interaction is encouraged in a feline friendly reward-based manner. Kitten class experiences may help make kittens more prepared to accept and enjoy an enriched lifestyle as they grow, and become more accepting of change. These classes are held at Cat Care Center providing your kitten another opportunity to be comfortable at their veterinary visits. There will be a series of stations you and your kitten will rotate through aimed at preparing you and your kitten for a long, happy life together!
What Are Some Topics Kitten Kindergarten Will Cover?
The proper cat carrier, why they are important and how to acclimate your kitten to it in a feline friendly manner.
Safe and stress-free ways to travel in cars and how to train your kitten for this.
Acclimation to the veterinary hospital by visiting various rooms and instruments (stethoscope, nail trimmers, scales, stranger handling, etc.)
Observing and when deemed appropriate interacting with others kittens of the same age group and their owners in a positive, feline friendly manner.
Answering any questions or concerns you may have about your kitten.
Discuss proper resources for your kitten and home and preparing your home to best support your kittens needs (litter box optimization, scratching posts and locations, basic diet and feeding information, play behavior, grooming, training for possibility of future medication needs, among others).
Appropriate predatory play, gentle human interactions
Begin discussing the concepts of training (clicker, reward-based, harness training).
Who Can Attend Kitten Kindergarten?
Your kitten must be under 4 months of age, current on all age-appropriate vaccinations, and negative for feline leukemia, fleas, and intestinal parasites. No coughing, sneezing, vomiting, diarrhea, or hair loss. For the health and safety of all the participants, kittens not meeting these requirements will not be allowed to attend.
You must be 18+ to attend, unless accompanied by an adult.
What is the cost to register?
Registration is only $85 and covers all three classes!
When is Kitten Kindergarten Offered at Cat Care Center?
Each class will begin at 6:30PM and last approximately one hour. Coffee and snacks will be served!
Check out our events on Facebook for more up-to-date information!